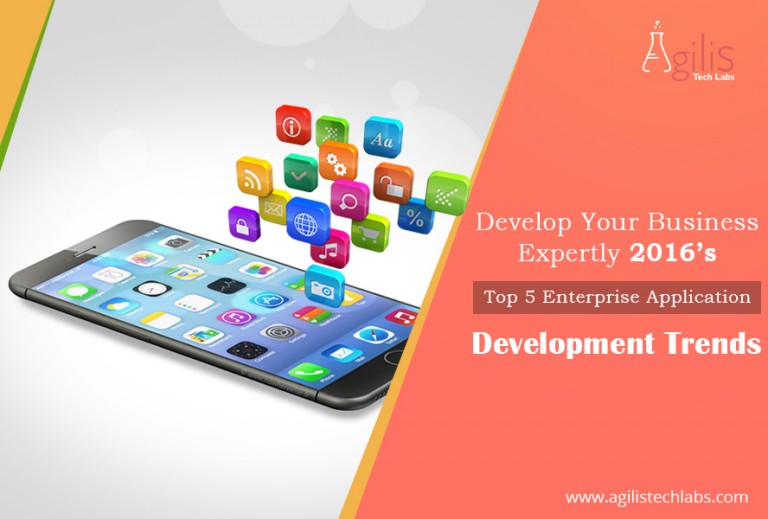 Develop Your Business Expertly: 2016's Top 5 Enterprise Application Development Trends
Mobile apps, in this day and age, are considered as simple means of finding solutions to a lot of issues that we face on a daily basis. From booking a taxi and finding the easiest route to a place to shopping our favorite stuff online and finding restaurants nearby, we have started using apps in almost everything we supposedly do every day. Mobile apps have made a lot of things significantly easier and have given businesses a great way of streamlining all their processes, which results in better productivity, leading to an improved ROI.
So, what is the first and possibly the most important step that businesses need to take to be more productive and have their workflow greatly streamlined? They need to look for an enterprise app development company that can help them in developing customizable software that can be deployed within the existing infrastructure. Enterprises apps have a lot of benefits; many businesses are not even aware of some of these.
To begin with, enterprise apps offer businesses the hold over their employees, which they need to better monitor their work, progress, and contribution in the growth of the company. How productive is an employee? Is he/she going about their job in the way they were told or trained to? What is the location they are currently being deployed? The decision makers of a company can have answers to these question whenever, wherever they want. It gives them more control of the operations, employees, and project, which consequently allows them the time and freedom to make calls that they believe would be better for everyone involved in a project. Such apps can also prove quite useful in helping businesses keep track of top performers and rewarding them as well as improve communication between different departments.
Considering how important these apps are, it would be great to know the top 5 enterprise application trends to watch out for in 2016.
Security becomes top priority – As if it needed to be stressed upon, security has become a growing concern with cyber attacks not only growing in number, but also in their sophistication levels. Cyber criminals are moving shoulder to shoulder with security developments, and thus it has become imperative that developers put more focus in creating secured apps that do not feature any susceptibility to threats whatsoever.
Growth in citizen application needs – Developing apps that serve their purpose properly has always been an area of concern not only for the IT department of a company, but for the entire business unit as a whole. Whenever there is a need for an application, the IT department would be asked to build it and will be given details of what it should include and what it shouldn't. But, it doesn't end here. With the requirement of so many apps, the IT department, on most occasions is flooded with requests, and isn't capable of meeting all of them. So, there are delays, delivery of inefficient apps, problems in deployment, so on and so forth.
The reason for this is that no one requesting for applications understands the complexity of the tasks of building efficient apps. Everyone wants their apps to be developed first, which makes the IT department fulfill requests, but without contributing the time that the app development process requires. This leads businesses to look for an alternative, which comes in the form of third-party app developers or external cloud services providers. "Shadow IT" as this alternative is referred to can be done without, if the entire process from app request to development and deployment is properly managed.
Shadow IT does meets momentary needs of businesses; it brings with itself a number of issues – security issues being at the top of the list. This is why the internal IT team of a business should be given time to understand the use of internal information and how it is needs to be store and managed. Once they understand this, they will be in a better position to ensure and safety and security.
Adaptive and responsive designs will become a thing of the past – Responsive and adaptive designs have ruled the roost of sorts for quite a long time, but their end seems near. Both designs were used to make websites adapt to different devices and screen sizes. But, with users going more mobile than any other device, responsive or for that matter, adaptive designs would only be used quite sparingly.
Increase in hybrid app development due to increase in enterprise app demand – The increase in the number of users of mobile devices, the demand of making enterprise applications accessible on phones has seen a big rise. And with the prediction of the need of enterprise applications increasing five times in the coming year, the development of applications that can be accessed from any mobile device has become an important concern to not only pay heed to, but work towards as well. So, hybrid will become the way to go because you can't force business users or customers for that matter to use a particular device with a specific OS version. And native app development requires better skills and more development time, so increase in hybrid app requests are very well going to be a trend.
Acceptance of front-end technologies – In the time we find ourselves in, the need of responsive web applications that are better than native mobile apps in every sense, has certainly increased. This is why a significant move towards front-end technologies will be seen in 2016.